Narrow, twisty singletrack located within a 100 acre park. Short, steep climbs and fast descents with a few flat or straight spots. At the very bottom is a swampy area. Riders should stick to the established trails and be aware of the No Trespassing signs. Some parts of the wooded area are private property.This is a moderately difficult, intermediate trail system, with fast flowing singletrack. There are some rocky sections, log piles, roots, and some bermed turns. Perhaps the highlight of this "hidden gem" is the "THE BUZZ", which is a dryed out creekbed that has been turned into a fast flowing section with plenty of bermed turns, rollers, and banked sections. You can drop into and out of the creek bed as if it were a half-pipe.
Overall, this trail system is rather secluded and quiet. It's not uncommon to be the only rider on the trails in an entire day. Stick to the outside loop unless you know the park well. It is easy to get "lost" if you don't know your way around.
Maps: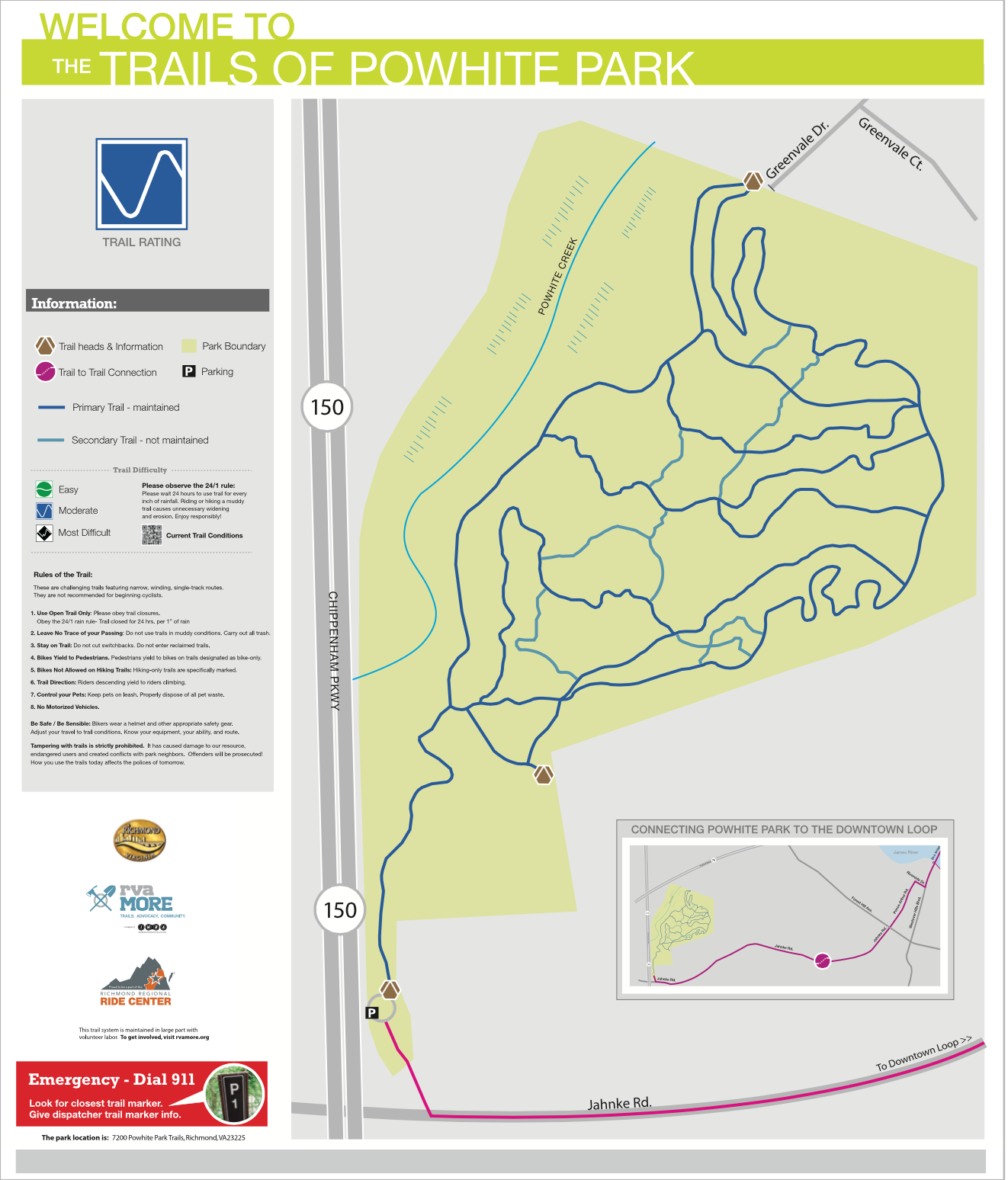 Directions:
By Car:
The main parking lot is across the street from CJW's Chippenham Hospital. at The Chippenham Parkway and Jhanke Road. Heading southbound on the Chippenham Parkway, take the Jhanke Road exit and turn right onto Jhanke Road. Make a U-Turn at the second stoplight (Hiokas Rd). The park entrance will be immediately before the on ramp to Chippenham North. If you're headed northbound on the Chippenham Parkway, take the Jhanke Road exit. The park entrance will be directly across Jhanke Road from the off ramp.
By Bike:
Powhite Park is only 3 miles away from the JRPS and can be biked to by staying on neighborhood streets. From the Nickel Bridge South Trailhead, head south (uphill) on Westover Hills Boulevard. Turn right onto Riverside Drive. Follow Riverside Drive west under the railroad bridge. Take the third left after passing under the bridge to stay on Riverside Drive. Make a left onto Forest Hill Ave, then quickly make a right onto Bliley Road.  Turn right onto Blakemore, then left onto Junaluska Dr, right on Glencove, and left on Greenvale. The park's back entrance is at the end of Greenvale.