You are here:
Home
/
Tour de Fall Line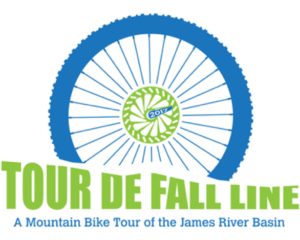 2017 Tour de Fall Line
Saturday, September 16th, 2017 – 8:00 AM to 6:00 PM
A Scenic Tour of the James River Basin by bike.  Explore the length of the James River's fall line.
Hosted by rvaMORE to raise money for the trail building cause.  All proceeds directly benefit rvaMORE to help enhance your outdoor experience on our local trails. Come out and explore with your fellow cycling enthusiasts.
Day of Registration and Packet Pickup starts at 7:00am for 50 miles, 7:30am for 28 milers, 8:45am for 14 milers.
Mountain Bike Routes:
Here is your chance to ride a route that hits all the major trail systems in the City of Richmond in one 50 mile loop! You will ride trails in a number of Richmond's Parks including the James River Park System, Forest Hill, Ancarrow's, Dogwood Dell, Powhite, Pony Pasture and Larus. Smaller ride options of roughly 28 and 14 miles are available as well. All routes showcase what makes Richmond trails so unique and fun to ride.
Mountain bikes are recommended as the courses will have plenty of dirt and lots of technical singletrack.  You will follow a marked course with aid stations along the way. Finish and receive a beer and a meal, and additional frosty cold beverages for purchase. Please don't forget your helmet, tubes, and other bike repair items you might need along the way.
Please note you will be riding on an open course, in an urban environment on a mix of singletrack and linked with on road connections. Most roads will be low traffic but the course does require short sections of some high volume roads. Although the trails on the course will be marked please keep a cell phone with google maps and make sure know how to navigate via the course map.
Explore the course outlines here:
14 Miler:
https://mapsengine.google.com/map/edit?mid=ztdge_Ufwz38.kR7JjNA0JbAw
28 Miler:
https://mapsengine.google.com/map/edit?mid=ztdge_Ufwz38.kJKaWRHr5Oz0
50 Miler:
https://mapsengine.google.com/map/edit?mid=ztdge_Ufwz38.k81NxSPoH3Uk
What does your registration to the tour include:
Food and drinks at all aid stations
Post-ride party with Stone beer and and a meal.
NOTE: We are changing things up and working hard to ensure that ALL participants have a post-ride meal, regardless of when they finish.  We regret that some folks last year were left waiting too long to eat or went without. We appreciate the feedback and support.
Marked trails –  Ride on your own or join the course leader, available on all routes.
Course sweepers for all routes and sag support via cell phone
Basic bike assistance at aid stations (free lube, tire pumping, etc.)
And don't forget, a large portion of your fee goes back to the trails you are riding!