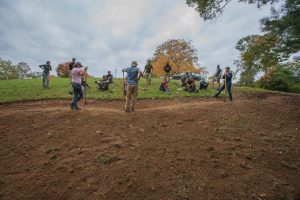 rvaMORE will be holding a Trail Building 101 class on Saturday, October 22nd in Forest Hill Park.
Join us to learn the basics of trail building and why we do the things we do in the James River Park System. The morning classroom session includes discussion about terrain, soil, trail design, construction techniques, user groups, and the relationship between rvaMORE and the land manager.  In the afternoon, we'll get hands-on rerouting a section of trail in Forest Hill Park.
There is no cost for this class and lunch will be provided, but the class size is limited to 24, so please sign-up early to reserve your spot.  Register here.
When: 8:30am – 4:00pm Saturday, October 22th 2016
Where: Stone House in Forest Hill Park (note: please allow extra time for parking due to Forest Hill Farmer's Market)
Bring: Notebook & Pen for classroom notes. Gloves, study shoes and work clothes for hands-on session.